Rara's Jewel

s Review!
Happy May, everybunny~! This month will hopefully be super happy~!♥ It's off to an uber great start, because my order from Rara's Jewels arrived way earlier than I expected, plus Angelic Pretty are re-releasing Milky Planet on Friday!♪ And there's going to be a salopette whee~~ something that hopefully won't be too big for me www~~ On another note, I hope that I can keep making my reviews better and better~! I keep thinking things like "Oh maybe I should say this neext time!" or "maybe I can rate this?". I hope you'll bear with me as I improve and keep enjoying my reviews and blog posts. m(_ _)m ♥
On this super sparkly evening, I'll be reviewing the lovely Rara's Jewels~!♥ It's a super cute accessory shop selling cute things to mix and match with fairy kei and creepy cute styles~♪ Recently, Rachel who owns and creates all the cute accessories, started shipping to the UK~! After knowing about her store for a while, I could finally buy some thing I'd had my eyes on~
Clicky on the piccy to visit Rara's Jewels!
I bought the Creepy Cute Bone Hair Clips and Silky Pink Bows with Pearls~!
The piccy below will link to the item page~
Unfortunately, I think the bows are sold out, but there are lots of other bows to see on her shop~!♪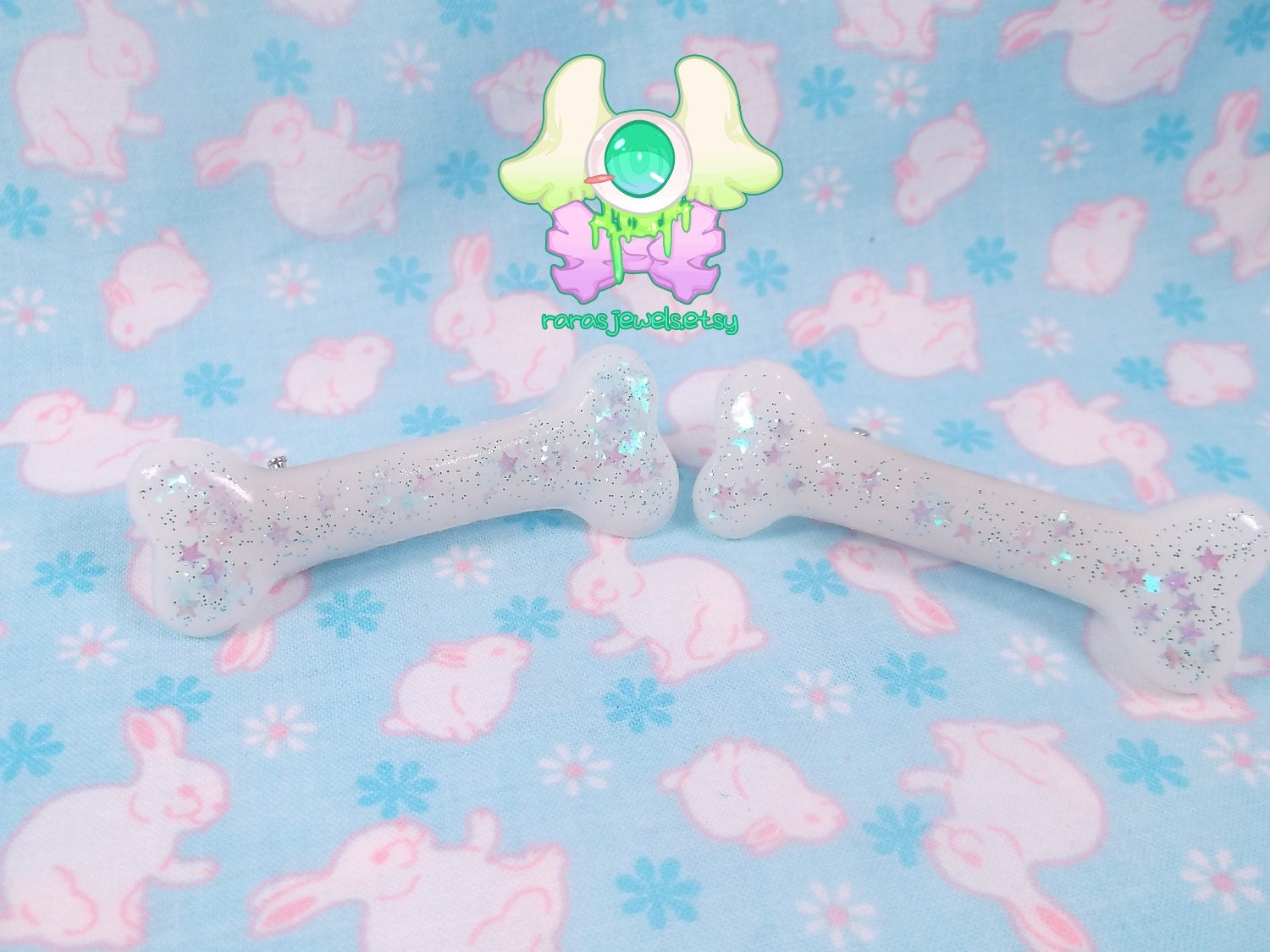 One thing I like about her shop is that everything is so nicely presented in the pictures~! There's also a lovely variety of things available, but not too many so it's not tedious to look through~♪ I'd love to have bought a necklace, but unfortunately things like metal chains and other metal things react badly with my skin..(ι´Д`)ノ
I placed the order on April 25th~!♪ The bone clips were $7 (comes as a pair) and the silky pearl bows were $2 each~! I ordered two so they can decorate my twintails~♥♥ The shipping came to $11.80~
Just over an hour later
I got an email letting me know that my order had shipped! It even came with a tracking number~ Super quick!♥
Everything arrived safely and happily on the 30th~ I couldn't believe how quick the shipping was!♥♥
The goodies arrived in a small plain plastic envelope~
Inside were some small packets~!
She included a super cute handwritten note (Mamegoma~!♥♥) and also a sticker~♥ A very cute business card~♪
And oh, what's this?
Laffy Taffy?!♥
I'd just like to take a moment to express how much I love strawberry laffy taffy♥
Thankies so so much~! (QωQ*)
The bone clips and pearl bows were in indivudual sealed plastic bags~
Lady Macaron is modelling the silky pearl bows~!♥
They're super pretty!
The construction is super neat, and the pearls are firmly in place!♥
On the back, there's a big crocodile clip~! I found that it stayed in my hair without wobbling.
(My hair is fairly thick though.)
Dax is modelling the bone clips~! Wan wan!♥
I love these so much, especially the starry glitter inside~!♥
The clip and bone are very securely glued together. I had no problems with wobbles~!
♪♪Time for the ratings~!♪♪
♥Shop♥
Presentation:
(I love how consistent each item picture is, and I love the background~!♥ The only slight problem is that some light blue products seem to blend into it, though that might just be my laptop's display?)
Customer Service:
(She was so quick with sending the items out and sent candy and a lovely note~! A million hearts~! -nodnod-)
Fees:
(I found the costs to be super reasonable!♥ Especially for the quality of the items~♥ The shipping fee is fair, too~)
Overall:
I've got to say, I think this has set the record for fastest international shipping time and fastest shipping out
heehee~♪ I absotively love the personal touch of the note and candy~ I always think it's lovely when shops do that!♥ Like, super customer appreciation?♥♥ I'm going to enjoy my laffy taffy with my plushies later~♪
♥Items♥
Quality:
(The quality is great and it's clear that lotsa love goes into these~♥ It makes me happy~!)
Comfyness:
(I've had no uncomfyness whilst wearing the items~! The silky bows are very soft, and the clips don't hurt~!♪)
Secureness:
(The bone clips and silky bows have all stayed in my hair very well~!♪ The only wobbles I've had are due to my inability to do secure hair buns www~)
Overall:
Pretty, cute, and good quality accessories~! I'm so happy I bought them~ I finally have some creepy cute hair accessories and more much-needed hair bows~♥♥ I'll be wearing them lots and lots~♪ I can't wait to buy from Rara's Jewels again!♪
♥Outfits and Styling!♥
♥Outfit Rundown♥
♥Sweater: Hello Cavities
♥Tutu: Bodyline
♥Creepers: eBay
♥Tights: eBay
♥Bone Hair Clips: Rara's Jewels
The bone clips are super cute bun decorations~!
Though I'm terrible at putting my hair into buns~ OTL I need to practice~♪
♥Outfit Rundown♥
♥Dungarees: New Look
♥Front Bow: Bodyline
♥Tights & Socks: eBay
♥Top: eBay
♥Shoes: Bodyline
♥Hair Bows: Rara's Jewels
♥Bracelets: Little Mizz Kitty
The bows are uberly superly sweet and sit very neatly on my twintails~!♥
Pyon pyon~♪ That's it for another review~ I hope you enjoyed it!♥ I can't wait to co-ordinate more outfits featuring these accessories, and buy more accessories in the future~!♪
I'm not sure what my next review will be, I still need to make a makeup post ww~ I have a few lovely things on their way to me, including a MyMelody phone case ahh~!♥♥
Thankies uberly so much for reading~♥♥
Have a sweet day and a dreamy night~!
Love and baibais from Amai~♥
♥-hughug-♥