Happy happy Sunday everybunny~!♥ ((ヽ(๑╹◡╹๑)ノ))♬I hope that you're having a really great September so far~♪ I'm feeling super happy, because my packages all arrived within days of each other~!
(❁´◡`❁)♥ You can find everything that I bought here~! Today I'll just be reviewing the things I bought from Taobao, which is actually loads~!♪♪ Please bear with me, as this will be a very long and picture heavy post. I really hope you find the reviews helpful though~ m(_ _)m♥
Just before I start, I'd like to say a super big thankies~!♪ I reached 50+ followers on here the other day~♥
♪First Up~ Using TaobaoSpree~!♪
TaobaoSpree
is a shopping service for Taobao, of course~! To order from most Taobao stores, you will need a shopping service. One exception I know of is An*Tai*Na, which sells shoes, and custom order shoes. You can email them to order from overseas~!♪ After reading some good reviews, I decided to use TaobaoSpree, and now I will be adding to the good reviews~
(⌒▽⌒)☆ You order by email, and can either download and fill out their spreadsheet, or send your own order form. Make sure to triple check your shipping and paypal details~!♪ I decided to use the spreadsheet~! When using the spreadsheet, you have to fill out your details at the top, and then fill out the main body of the spreadsheet with whatever you wish to order. I wasn't sure of how much the domestic shipping was for each item, so I left that part blank. The last column is where you fill out details like size, colour etc. On taobao product pages, it says what sizes and colours the product comes in, so just copy from there! However on some pages, it wasn't very obvious which colour name corresponded to which colour item, or there was a picture on the selection.. so I just linked a picture in the detail column on the spreadsheet~!♪
♪Timeline♪
August 19th → I emailed my order.
August 20th → The next morning, I got an email back! My agent introduced herself as Nancy~! She had checked my order and added it all up, and let me know how much my first payment would be. The first payment consists of the product fee + commission + domestic shipping + paypal fee. She had also sent back my spreadsheet will all of this filled out.♪
Note: When you send the payment through paypal, make sure to email your agent to let them know you've paid~! They give you all the instructions for this anyway~
August 26th → I received an email from Nancy to let me know that all my items had arrived~!♥ She also linked me to photos of everything, which was great! (I probabaly got a little over-emotional at the sight of my randoseru...(´;ω;`) ) In the email, she also double checked my shipping info, and told me the cost of shipping by EMS~! I decided to go with EMS, but I'm sure you can ask for a quote for another type of shipping.
August 27th → Nancy emailed me to let me know that my payent had been received, and to apologise for the delay in letting me know, as there were power cuts. She said she would send my package the next day!
August 28th → I received my tracking number from Nancy, and my package was happily on its way to me~!♥♥ She also told me that she marked down the value of the package so I wouldn't get caught by customs~! (Because if I had done, I can't imagine how much I would have been charged www)
September 3rd → I came home to a note from the delivery person that they tried to deliver the package. ;;
September 4th → I picked up the package from the delivery centre~ it was huge!♥
Here's the size in relation to my Bodyline and CDJapan packages, which I picked up on the same day~ Super big~! (And 5.8kg ww)
As you can see it's taped up really well, and there are plastic straps wrapped around it!
Everything was packed really well inside~!♪ Like Tetris! That Alapaca on top is for my sister, he's called Arthur. When I had taken everything out, not everything was there! I was really worried, but then I had a thought..! I check inside the randoseru and the other things were in there~♥
Note: In this package was also some things that Josh bought including two suit jackets, and a cosplay~!♪ I don't have any pictures of those of course, but I might briefly review them when I have photos of him wearing them!♪ (If he doesn't mind of course~)
Inside the package, I also found these~!♥
I think it's a case for a pass or ticket~!♪ It was very kind of Nancy to leave a cute note and gift inside~
(◠‿◠)♥
Communication:
(Nancy was very quick at contacting me~ I didn't need to answer any questions, but I sure she would have been happy to.♪)
Customer Service:
(It was very friendly, and it was nice of Nancy to take pictures of my order and add the note and gift to my order!)
Speed of Service:
(Very quick~ and my package was shipped out as soon as possible!)
Fees:
(I was very happy that the spreadsheet detailed the fee breakdown, and it seemed very reasonable~!)
Basically I don't have anything negative to say~! The service was quick and the communication was good as should be expected with any good shopping service♪ There was also the added bonus of good customer service, so I'm very happy with how it all went!
Now let's go through everything~♪ Time to review!♥
♥Heart sailor top from BoBon21 in pink♥
It looks just like the picture~! (Except for the wrinkles because it had just come out of the packet ww) The ribbon isn't removable, I wasn't sure whether it would be or not. It's very comfy, and I love the design~!♥ I really want the matching skirt, and also the set in blue heehee~♪ It fits really well, too! Only a little roomy here and there, but it's a nice roomy, not an awkward roomy that I often get. ;;
5/5 hearts~! No problems at all♪
♥Pink ruffle skirt from BoBon21♥
Again, just like the picture~! Underneath are some little shorts edged with sort of... ruffly lace? It matches the rest of the skirt and because it's so short, it's nice to have the shorts underneath.♥ Just like the sailor top, it fits really well!
5/5
♥Blue bloomers with braces from BoBon21♥
These are a lighter blue, and a bit more minty than the stock photo, but that wasn't as much of a problem as the fact that all the buttons dropped before I had even gotten them on, so I had to resew them..;; It's a little disappointing, because I was looking forward to this most out of all the clothes! (I was most excited for the randoseru of course ww) The heart button at the front was also quite floppy, so I sewed it on a little more so it stayed up and didn't look silly. They're super cute and do fit very well! But are lacking a little..
3.5/5 for the disappointing parts. ;;
♥Offbrand HelloKitty and Bunny tights♥
I've been wanting these for ages, and I finally got them~!♥ After I bought them I was worried that my legs would be too chubby and they wouldn't look good at all... but I think they fit pretty well!♪ Though the printed parts do tend to disappear in photos with filters so if you look at the photos below and parts look like they're missing, they're still there! ;;
5/5
These are so cute and comfy, and fit super well~! But the material is a lot thinner than it appears in the stock photos..;; The ribbon is also a lot thinner, and there's no button in the middle...;;
4/5 because of the differences to the stock photo
♥Monomi cosplay hoodie from FantasySheep♥
Here it is~! My cosplay for MCM October~!♪♪ I've decided I prefer doing gijinka cosplays.. I'm not pretty enough to cosplay a human character ahah...。:゚(。ノω\。)゚・。 I've seen this on some other people, and mine appears quite bigin comparison, I guess I'm a lot shorter than them, but that makes it more accurate, right? I feel so cuddly when wearing this~!♥ It's very comfy, and well made♥
5/5
♥Offbrand short brunette wig and long golden blonde/ginger wig♥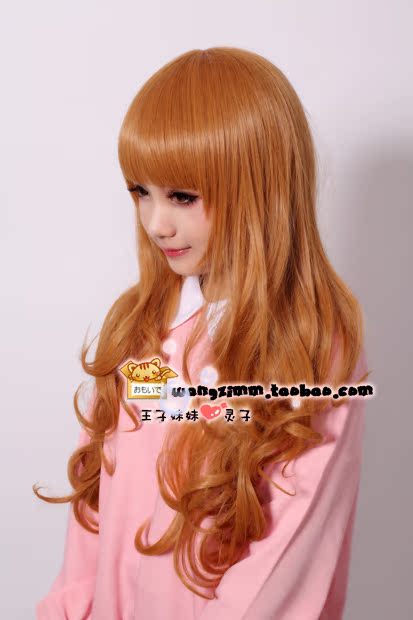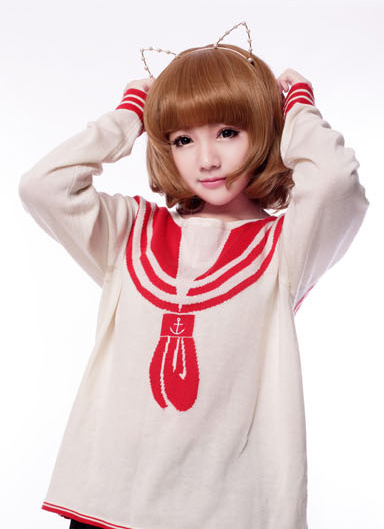 These are both super comfy and lovely wigs~! I won't post anymore photos because I'm wearing them in all my outfit pictures, so you can get a better idea of what they lookie like from those!♪ Please note that in the second stock photo, the colour is different because I didn't order that colour! However the style matches perfectly♪ I'm guessing they both look very realistic because many people thought I got my haircut and dyed ww~♪ I've been wearing the short brunette wig almost all day everyday since Thursday, and I'm finding it very comfy~!
5/5
♥Pink Randoseru~!♥
Unfortunately I don't have a stock photo for this, but it most definitely matches~!♪ It's so lovely, and the colour is perfect! I have to admit, I cried a little when I got it out for the first time, I was just so happy and still am~ a randoseru was one of my dream items~!♥♥ I really want a light blue one nect heehee♪
All the hearts in the world~!♥
There's a clip on the side to put keychains on~!♥ And at the front, there's a reflective strip.♪
The front has a place to fill in your name etc.~
The bottom has a very secure metal "lock" and the straps are adjustable!♪
I think these are instructions, but my Japanese isn't good enough to read them... ;;
There's a timetable!♪
The bottom is hard plastic so it's secure and sturdy~
There's the main part of the bag, a thin pocket, and a small zip up front pocket!
♥Outfit Time~!♥
Hooray~!♪ It's time to show all the outfits I put together with all the new things I bought.♥ I hope you like them~!♪ You can also see different ways that I styled the wigs~♥♥
♥1♥
♥Rundown♥
Hoodie → eBay
Tights, Wig → Taobao
MyMelo Bag → Tofu Cute
Shoes → Bodyline
(I'm wearing a top and bloomers underneath the hoodie, both offbrand♪)
Without the hood up~ and with the good up~!♪
♥2♥
♥Rundown♥
Cutsew → Yumetenbo/DreamV
Bloomers → BoBon21
Wig, Randoseru, Tights → Taobao
Hair Pompoms → eBay
Shoes → Bodyline
♥3♥
♥Rundown♥
Cutsew, Bag → Angelic Pretty
Bloomers → BoBon21
Tights, Wig → Taobao
Shoes → Bodyline
Bracelet → Chocomint
My eyelashes lookie really long heehee~♥(*╯v╰*,)
♥4♥
♥Rundown♥
Top, Skirt → BoBon21
Tights, Wig → Taobao
Handbag → River Island
Bracelet → Candy Geisha
Bow → Rara's Jewels
Shoes → Bodyline
Sunglasses, Beret → Offbrand
♥5♥
♥Rundown♥
Top → BoBon21
Bloomers, Tights, Wig, Randoseru → Taobao
Shoes → Bodyline
Bows → Rara's Jewels
It's Snoopadoo the Panda~!♥♥ Also I love my shoes and randoseru so much ahh~♥
♥7♥
♥Rundown♥
Sailor collar jacket, Shoes → eBay
Bloomers → BoBon21
Cat ear headband → Miss Selfridge
Randoseru, Tights, Wig → Taobao
My paws~!♥♥
"Psst, Mai-Mai" "Yes, Martin?" "I'm the Captain!"
♥8♥
(This isn't the completed cosplay, I still need my wig!;; )

♥Rundown♥
Monomi hoodie → FantasySheep
Bloomers, Randoseru → Taobao
Tights, Legwarmers → Offbrand
Shoes → Bodyline
Whew~! Lookies like that's everything~♪ Thankies so so much for reading~♥♥ I really hope you enjoyed seeing my new outfits! I'm really happy with how they look!♥ I also hope you found the reviews of the products and shopping service helpful!♪ If you need any help with shopping services or browsing Taobao, just leave me a message or ask on my ask.fm or tumblr (both linked near the top).♪ I'll make a full post on my cosplay nearer to MCM and when I get a wig for it~! I hope I'll meet many people there~♥
I also have reviews on my Bodyline shoes, my CDJapan order, and my JBox/JList order to do, but they might have to wait until next weekend~(*^ ^*;;;)
I hope you have a wonderfully sweet day and dreamy night~!♥♥
Love, Amai
♥-hughug-♥